On October 7, 2022, as part of the opening reception for this year's STaRT@Rice program, the School of Social Sciences will host its second Research Relay of the semester, featuring research by faculty from Building Research on Inequality and Diversity to Grow Equity (BRIDGE).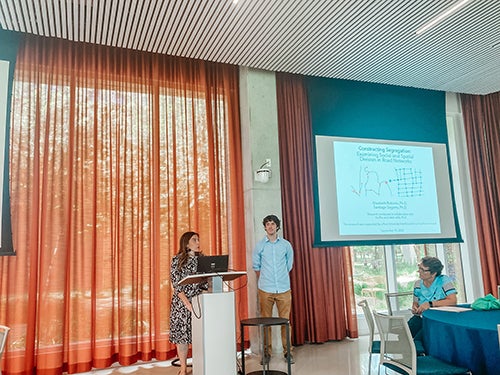 The purpose of Research Relays is to provide a relaxed setting to allow faculty to learn about each other's research, promote informal discussions and stimulate collaborations. Opening remarks will be provided by Rice University President Reginald DesRoches, School of Social Sciences Dean Rachel Kimbro, STaRT@Rice Co-Directors Tony Brown and Michelle Torres, and BRIDGE Director Jenifer Bratter. Four speakers will be given four minutes each to present their research in a "lightning talk" format. An informal dinner will follow the presentations, and attendees will have the opportunity to connect and discuss with the speakers.
"We're excited to showcase BRIDGE research during the opening reception for STaRT@Rice," said Kimbro. She continued, "Our students will benefit from seeing social science research methods in action as they prepare to take their workshops."
BRIDGE aims to enrich understanding of inequality through a focus on Houston, Texas, one of the nation's most racially and ethnically diverse urban centers. BRIDGE research to be presented at the relay will explore, through innovative scholarship focused on the Houston area, how and why disadvantage occurs.
Presenters at the Research Relay in October include:
- Mikki Hebl, Martha and Henry Malcolm Lovett Chair of Psychology;
- Anshumali Shrivastava, associate professor of computer science;
- Brielle Bryan, assistant professor of sociology; and
- Robert Stein, Lena Gohlman Fox Professor of Political Science.
"We are proud to have the research by the amazing scholars and projects BRIDGE supports to be featured during the beginning of the STaRT@Rice workshops," said Bratter. She continued, "As the BRIDGE vision remains focused on making inequality visible, particularly within the rich environment of Houston, we know multiple research methods, as well as the expertise of multiple disciplines, are essential."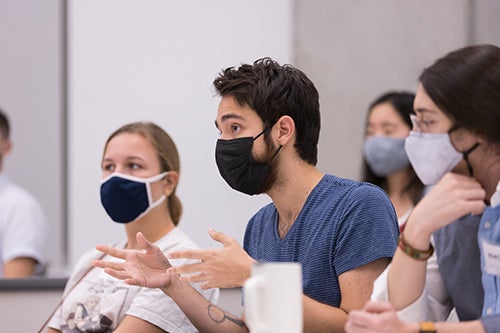 The STaRT@Rice program, now in its second year, is an innovative program that provides research training and professionalization opportunities for undergraduate and graduate students. Participants increase expertise via exposure in applied workshops and learn how to ask better questions about the research process. Workshop topics cover a broad range of content, moving from introductory to intermediate to advanced levels. Therefore, participants are given the opportunity to choose workshops matching their skill sets and background.
"STaRT@Rice is the type of program that creates community among School of Social Sciences faculty and students while allowing enrolled participants to sharpen their methodological skills," said Brown.
The Research Relay with BRIDGE will set the stage for what promises to be an invigorating four days of STaRT@Rice research-oriented workshops.
"The research topics presented by BRIDGE scholars, which focus on the disparities occurring right here in our own backyard of Houston, will be of particular interest to STaRT@Rice participants, as they are students who are enrolled at Rice and numerous other local universities," said Torres. She continued, "Opening with the BRIDGE Research Relay is a natural fit that will provide an engaging and invigorating introduction to the 2022 STaRT@Rice by clearly illustrating how the methods and skills that students will learn in the workshops translate into knowledge and action."
Click here to RSVP for the October Research Relay. For questions about Research Relays, contact Pat DeLucia at Pat.DeLucia@rice.edu. To learn more about STaRT@Rice, visit: start.rice.edu.