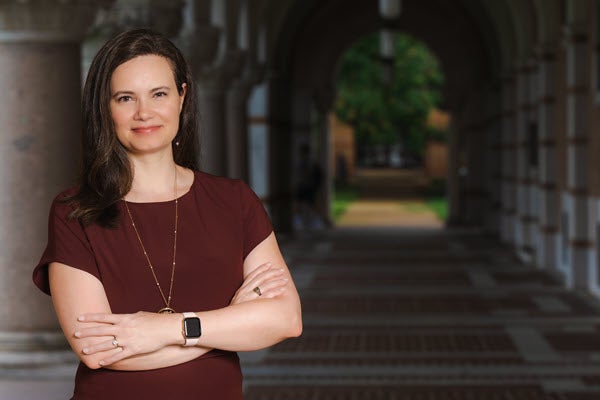 Rachel Tolbert Kimbro is the dean for the School of Social Sciences at Rice University. Dr. Kimbro, Professor of Sociology and founding Director of the Kinder Institute's Urban Health Program, has been at Rice since 2007.
Dr. Kimbro earned her bachelor's degree in sociology and policy studies at Rice in 2001. She completed an M.A. (2003) and a Ph.D. (2005) in sociology at Princeton University. Following her doctoral work, Dr. Kimbro was a Robert Wood Johnson Foundation Health & Society Scholar at the University of Wisconsin-Madison, where she received interdisciplinary training in population health. Dr. Kimbro joined Rice as a faculty member in 2007 in the Department of Sociology, was promoted to associate professor in 2012, and to full professor in 2016.
Dr. Kimbro's research focuses on family and neighborhood influences on child health and wellbeing. Her work is at the intersection of sociology, public health, and public policy, and she has published extensively in these areas. Her new book, "In Too Deep: Class and Mothering in a Flooded Community," will be published by the University of California Press in December 2021.
Within her discipline, Dr. Kimbro has served as a past editorial board member of the Journal of Health and Social Behavior and the American Sociological Review. She has served as associate editor for the Population Research and Policy Review. Dr. Kimbro's professional associations include membership in the American Sociological Association, the Population Association of America, the Southern Sociological Society and the Southern Demographic Association, holding leadership roles in each of these organizations.
In the Department of Sociology, Dr. Kimbro served as an undergraduate adviser, director of graduate studies, associate chair, and interim chair. She was instrumental in the department's launch of a Ph.D. program in 2011, and has served on the Social Sciences' Faculty Advisory Committee.
At the university level, Dr. Kimbro has served as a faculty adviser to the president since 2019, as deputy speaker of the Faculty Senate from 2014 to 2016, as co-chair for the provost search committee, and as co-chair of the Data Science Search and Programming Committee.
Click here to view Dean Kimbro's CV.