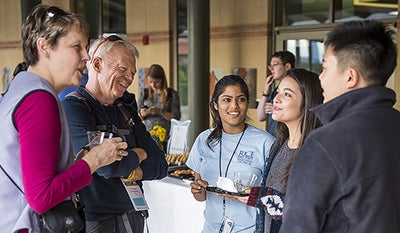 The School of Social Sciences at Rice University is dedicated to challenging old assumptions, finding answers to tough questions and generating solutions that make lives better. Our priorities include:
Investing in the research enterprise of our faculty and students.
Recruiting outstanding faculty.
Attracting top graduate students.
Supporting the Gateway program for undergraduates.
Building a new home for the School of Social Sciences.
To learn more about supporting the School of Social Sciences, please contact Sylvia LeBlanc, Director of Development, at sylvia.d.leblanc@rice.edu.
Ways to Give
Your gift to the School of Social Sciences can take several forms and, in addition to benefiting the school and our students, may provide powerful tax or estate-planning benefits to you.
Outright Gifts
You may make a commitment to the social sciences and fund it with cash, securities, real estate or other assets.
Pledges
You may pledge an amount to the gift opportunity of your choice and arrange to pay it in installments over five years.
Matching Gifts
If your employer offers a gift-matching program, you can leverage your own giving will be credited for the total amount.
Life Income Gifts
There are a number of giving vehicles that provide donors with income, flexibility and tax benefits, as well as providing a benefit to the university.
Bequest Intention
You may make a provision for the School of Social Sciences in your estate plans, assuring a legacy that lasts beyond your lifetime. Your gift also will count toward To Rice Be True, Rice's bold new gift planning initiative. You can access that information by clicking here.
The gift planning staff at Rice University is ready to help you consider and create a philanthropic strategy that is tailored to meet your family's financial objectives while leaving a legacy at Rice University. To learn more, please visit the giftplan.rice.edu.